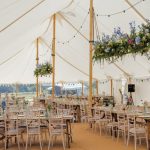 A Step By Step Guide for Planning the Perfect Marquee Wedding
Are you looking to tie the knot in a unique and beautiful way? Marquee weddings might just be the perfect option for you. With all the planning involved, it can seem like a daunting task. However, with our step by step guide on how to plan the perfect marquee wedding, you'll soon realize that it's completely doable! We will cover all aspects of your big day from choosing a venue to picking out décor and everything in between. By the time we are done, there won't be anything left for you to worry about! So sit back, relax and get ready to take some notes – because here comes everything you need to know about throwing an unforgettable marquee wedding.
How to plan a perfect marquee wedding for the perfect couple?
There are several considerations to make when planning a perfect marquee wedding. First and foremost, you must decide on the type of marquee that best suits the occasion. Next, thinking about size, location, cost, and your overall vision for the event is important. Finally, after settling on a marquee style and size, it's time to consider all the details that will bring together a fantastic day.
The next step is to determine how you would like the interior of the marquee decorated. This includes choosing furniture such as tables, chairs, and other furnishings; selecting decorations such as lighting and floral arrangements; setting up the entertainment for guests; and deciding upon any additional features such as audio-visual equipment or photo booth rentals.
When it comes to food and drinks, the key is to work with a reliable and professional caterer that can provide top-notch service. Depending on your budget, you may have a large buffet or opt for something more intimate like a seated dinner. You should also think about serving alcoholic beverages at the event, such as champagne or specialty cocktails.
Finally, it's important to ensure enough staff members are available to help run the show. This could include hiring servers and bartenders or enlisting the help of family and friends. With careful planning and attention to detail, you can create an unforgettable marquee wedding experience for everyone involved!
For more tips on planning a perfect marquee wedding, check out our blog for advice and inspiration. You can also reach out to a local event planner for professional help. No matter how you decide to go about it, make sure to create an unforgettable day that, all will cherish in attendance!
Making your marquee wedding dreams come true: essential tips and tricks for brides
Planning a wedding can be one of your life's most exciting and stressful times. Many brides dream of having a beautiful marquee wedding that everyone will remember for years. Although planning a marquee wedding can initially seem daunting, there are some essential tips and tricks you should keep in mind while arranging such an event.
The first step is to find the perfect location. The right venue will set the tone for your entire celebration, so make sure it's a place that holds special meaning for you and your partner. You also need to check if your chosen venue allows marquees or tents on site – some venues already have these structures in place but others may require larger structures from outside companies.

Next, you'll want to work out the logistics of your marquee wedding. This includes things like seating and catering arrangements, as well as the event's layout – where will guests enter, where will they sit, and how will they move around? You should also consider the weather and ensure enough space for a roof or tarps if needed.
Finally, it's time to choose a theme for your marquee wedding. Think about what kind of atmosphere you would like to create – is it romantic, cozy, or grand and luxurious? Once you have an idea in mind, you can start thinking about decorations such as flowers, fabric drapes, and fairy lights to bring your vision to life.
Marquee weddings offer a unique and unforgettable experience for you and your guests – with the right planning, it's possible to create something truly special on your big day. With these tips in mind, you can start creating the perfect marquee wedding that will stay with everyone for years to come!