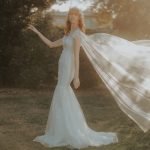 The Perfect Dress: Tips for Finding the Right Silhouette for Your Dream Wedding
Finding the perfect dress for your dream wedding can be an overwhelming and intimidating experience. After all, you are investing in a garment that will represent you on one of the most important days of your life and stay with you as a cherished memento throughout your future. From traditional gowns to contemporary silhouettes, there is an immense variety of dresses to choose from – how do you find the right one? With these tips, hopefully, finding that special dress won't feel quite so daunting; whether it's subtle details or a stand-out feature, knowing what suits both who you are and how comfortable and confident you feel is essential when saying yes to THE DRESS!
Different wedding dress silhouettes and how to find the one that's right for you
When it comes to finding the perfect wedding dress, there are many different silhouettes to choose from. Each silhouette has its own unique characteristics and can help you find the dress that flatters your body type and personal style. Here's a look at some of the most common silhouettes for wedding dresses:
A-Line Silhouette: The A-line is one of the most popular silhouettes for wedding dresses and is defined by a skirt that gradually flares from the waist down in an "A" shape. This style looks great on just about any body type as it accentuates the waist before gracefully flowing away from the hips and thighs. It also works well with various fabric types, such as lace, chiffon, silk, and organza.
Ball Gown Silhouette: This silhouette is for the traditional or romantic bride as it features a fitted bodice with a full skirt that is perfect for twirling around on the dance floor. It's flattering on most body types because of its structured shape but can be particularly flattering on curvy figures.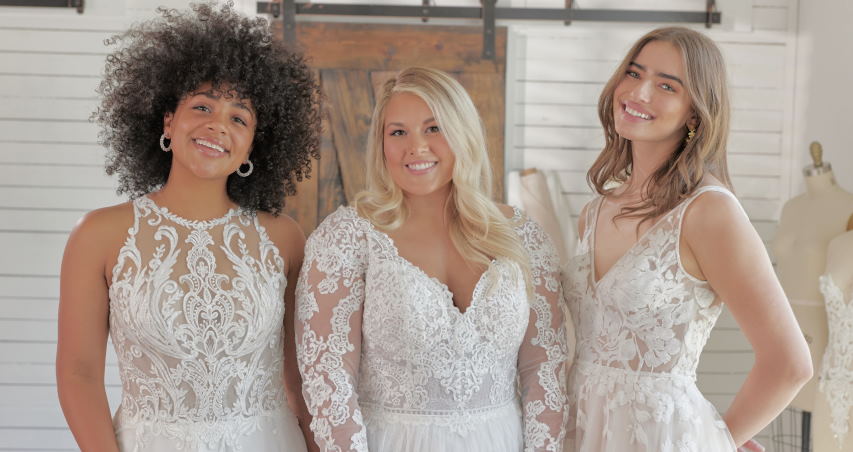 Mermaid Silhouette: This style fits close to the body until the mid-thigh, then flares out at the knee. If you're looking to show off your curves, this is a great option, as it accentuates all the right places in an elegant way. It works best on hourglass and pear-shaped figures as it can draw attention to the hips.
Sheath Silhouette: The sheath silhouette is a classic style that fits close to the body and falls straight down from the waist, making it extremely flattering on slim figures. It's perfect for the minimalist bride as it's simple yet elegant and can be made in various fabrics such as satin, silk, or lace.
Empire Silhouette: This style features a high-waisted bodice with an A-line skirt that flows out from beneath the bust line. It's incredibly versatile and works well on petite brides who want to elongate their silhouette. This style is also great for expecting mothers or those with broader shoulders, as it doesn't draw unnecessary attention to the stomach.
No matter what your body type or style, there is a wedding dress silhouette that will work for you. Try on as many gowns as possible until you find the one that makes you look and feel your best.
Guide to choosing the right wedding dress silhouette for you
The next step in choosing the right wedding dress silhouette is determining your body type. Knowing your body type is essential when picking a shape that will flatter you best on your big day. Here are some tips and tricks to help you find the perfect fit for your figure:
If you're an apple shape, look for A-line or modified empire silhouettes that cinch at the natural waistline and then flow away from the torso. This will create an hourglass effect, draw attention away from the midsection, and emphasize other areas of your frame.
If you're a pear shape, try ball gowns with full skirts that camouflage larger hips and bottoms. Also, look for ball gowns with higher necklines and strapless designs to draw attention away from the lower body.
If you're an hourglass shape, choose a mermaid or trumpet style that hugs your curves in all the right places. This silhouette is especially flattering for smaller waists and will give your figure an enviable hourglass look.
If you're a rectangle shape, go for something more dramatic like an A-line, ball gown, or empire waist dress. These silhouettes are perfect for elongating rectangular frames and creating curves where there may be none.
Finally, if you're a petite bride, try sheath dresses or tea-length styles to create the illusion of height. You can also opt for gowns with light details and fabrics to give your dress a delicate, airy feel and help create an overall look that is distinctly yours.
Remember, selecting the right wedding dress silhouette for you is all about choosing a style that accentuates your best features. So whether you choose something more traditional or modern, make sure you find something that makes you feel beautiful and confident on your big day!